~ ST. MICHAEL'S AND ALL ANGELS ~
HARBLEDOWN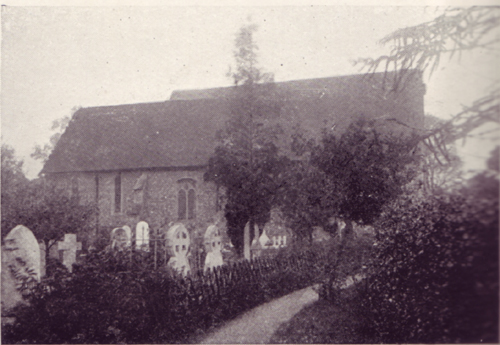 The church of St. Michael, Harbledown, was almost completely rebuilt in 1880-1, at a cost of about 3,000 pounds; there are three stained glass windows in the church. The register of baptisms dates from the year 1557, burials from 1561, and marriages from 1562.
-----------------------------------------
Clergy Deceased Sept. 11, 1865 - At Llangollen, aged 70, the Rev. Alfred Lyall, Rector of Harbledown, near Canterbury. He was Curate of Findon, Sussex, for many years and was connected with that place by property and family ties, being the brother of the late member for Whitehaven, and the late Dean of Canterbury. He was a man of great power of mind, and was the author of "Travels in Madeira (Rambles in Madeira and Portugal)," " A Metaphysical Work on Truth," &c. Though these works had no extensive circulation, yet it is impossible to read them without perceiving that the writer was a man of deep thought and great abilities. He had also edited for many years in early life the "Annual Register," and had occasionally contributed to the reviews. (estate probated at £7000) *the Revd was the son of John Lyall and Jane Comyn
The Rev. attended the opening of St. Augustine's College June 29, 1848
Marriage 1862 at Stoke-by-Clare, Suffolk, Alfred Comyn Lyall, esq., H.M.B.C.S., son of the Rev. Alfred Lyall, Rector of Harbledown, to Cora A. Cloete, daughter of the late P.G. Cloete, esq., and niece and adopted daughter of Major R.W. Bird, of Stoke College. The Genltemens Magazine 1862
TEDDEMAN, Thomas of Dover, Kent, gent., bachelor, above 27, and Mary Roberts, of Harbledown, Kent, spinster, 25 at her own disposal at St. Michael, Harbledown, aforesaid or.... 26 Feb. 1702/3. F. London Marriage Licences 1521-1869
1771 April 8th, James HORSLY and Margaret HAWKINS of St. Michael, Harbledown..Marriages at St. Dunstans, Canterbury
A small farm of sixteen acres of land, in the parish of St. Michael Harbledown, Kent, divised by Mr. John Hutchins, by will, dated in 1726, let for ten years from Michaelmas, 1810, at the yearly rent of £42 (the property is possesed by "Cordwainer and Bread-Street wards Charity School, in Old Change)
---
John Bargrave, S.T.P., rector of St. Michael, Harbledown. He died on May 11, 1680, aet. 70, and was buried under a flat marble stone, on the entrance into the martyrdom (in Canterbury Cathedral)
1761. March 19. Beilby Porteus, D.D., afterwards Rector of St. Michael, Harbledown, and one of the Six Preachers of Canterbury Cathedral. In 1765 he held the Rectory of Hunton; was made Rector of Lambeth in 1767; Bishop of Chester in 1776; and Bishop of London in 1787; he died in 1808
1856 - The Rev. Alfred Lyall, M.A. Rector
1899 - 1903, Rev. Charles Hairby Barton of Queen's College Birmingham.
---