~ THE BOROUGH ~
CANTERBURY
Borough of Staplegate, Ward of Westgate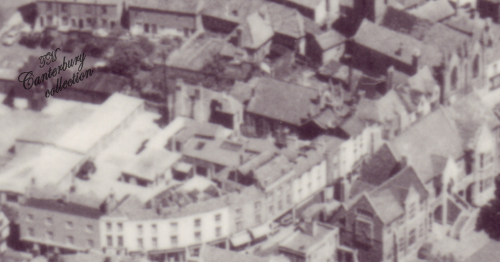 A detail of the Borough (St. Mary Northgate top right in Northgate Street)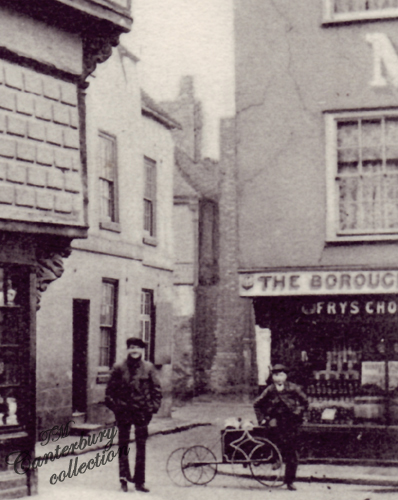 1917 Arthur John PAINE, Watchmaker
1917 W. C. POPE, Pastry Cook
1917 M. O'BRIEN, Greengrocer & Dairy
PRIMITIVE METHODIST CHURCH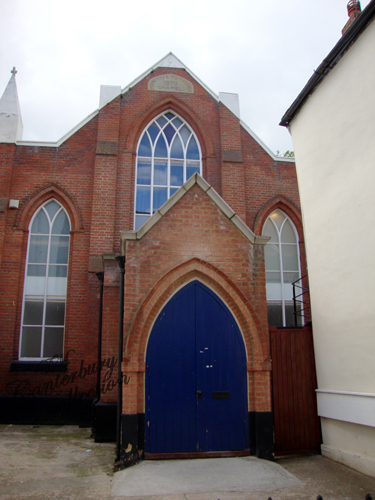 BERTHA COTTAGE
Edward GOULDEN (
February 25, 1893 (WTHBH) During Monday night the residence of Mr. E. Goulden, in the Borough, Canterbury, was burglariously entered from the rear, and the thief or thieves carried off nearly £9 in gold and silver. There was a lot of silver articles in the same room in which Mr. Goulden had placed the money, but none of these were taken. Last week there were three burglaries at Ickham and Stodmarsh, and the police believe that the same man committed these as well as the one in Canterbury.
1917 Arthur MEAD
Walter GILBERT, Butcher (
1917 F. E. CROUCH, Plumber
William HAMBROOK, Tobacconist (
1917 Robert PAGE, Greengrocer
A view of the Borough. You can see Sir John Boys house on the left.
1890's - 1903 Nathaniel Thomas KETTLE, Butcher
1917 John QUINN, Newsagent
Harriet MILLS (
Nov 1902 Arthur Lloyd PEPPER, 13 The Borough, Manager to Miss Lefevre Clothier
March 7, 1903, Canterbury Bankruptcy Court - Re: George Jones MASSEY, late of No. 10, 11, 12, 13 The Borough, Canterbury, Draper. This debtor applied for his discharge. The Deputy Official Receiver...The bankrupt commenced business in May 1894 at 1, Bon Marche, Hornsay, with a capital of 200 pounds, which he subsequently increased by 150 pounds. In 1896 he sold the buisenss for 444 pounds, buying the business at Canterbury for 445 pounds. Thiat business was only successful for a short period, and in 1897 he commenced to borrow money from Issac Gordon, the money lender. Brankrupt attributed his failure to trade competition but it was no doubt due to going to Gordon for money and paying 40 per cent for the advance. WTHBH
May 1903 Arthur Lloyd PEPPER, Drapers Assistant 13 The Borough Staplegate of Elizabeth Lefevre's Drapers Shop
1917 D. MANOUCH, Fishmonger
Norris FOWLER (
1917 J. ELLIS, Bookseller
Joseph WRIGHT, Tobacconist and Coach Smith (
1917 E. LEECH, Tobacconist
"A Canterbury Failure... The statement of affairs has been issued in the bankruptcy of Montague Frederick Charles Leech, of 15, the Borough, Canterbury, tobacconist and music seller, trading as John Ellis. ....the official Receiver in his observations says the debtor (aged 43) states that for a number of years he had been an insurance agent (working on commission) for various companies, but that about six years ago he commenced business in a small way as a music seller at 10, The Borough, Canterbury, .....etc." Aug 2, 1913 (Kentish Gazette and Canterbury Press)
1917 Horton Brothers, Ironmongers
1917 Sidney HAINE, Hairdresser
Charles W. HARLOW, Fishmonger (
1917 G. JARRETT, Fishmonger
No. 19
Stephen & Alfred HORTON, Warehousemen (
1917 Horton Brothers, House Furnishers
Henry MILLS, Fruiterer (
1917 C. A. TAYLOR, Butcher
1882 May INGE, Grocer, 21 Borough, Staplegate, 41 Stour Street and 31 Northgate Street
Frederick W. WALLER (
1917 P. W. WALLER, Grocer (*possibly should be F. W. Waller)
THE KING'S SCHOOL AND CATHEDRAL PRECINCTS
---