~ LADY WOOTTON'S GREEN ~
Lady Wooton's Green (has been spelt both ways)
CANTERBURY
Most of the houses were destroyed, with the exception of one in the 1942 bombing raids. As well, the college buildings and gate were badly damaged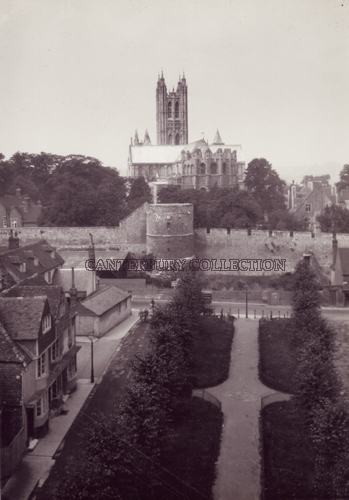 "Until lately the buildings* retained the name of Lady Wootton's Palace, and the open space before the gateway is still known as Lady Wootton's Green. Upon the death of Lady Wootton in 1658, the property passed into the possession of the family of Sir Edward Hales, and ultimately to his descendant Sir Edward Hales, of St. Stephen's, Canterbury. None of the owners acted as a conservator of the buildings." *of St. Augustine's abbey
Lady Mary, the widow of Thomas Lord Wotton, of Boughton Malherbe, was at this time residing at St. Augustine's Palace (the green adjoining St. Augustine's Palace derived its name from her) it was twice plundered by the populace, and a large picture representing Our Saviour's Passion was taken from the mansion and burnt by order of the Puritan Mayor.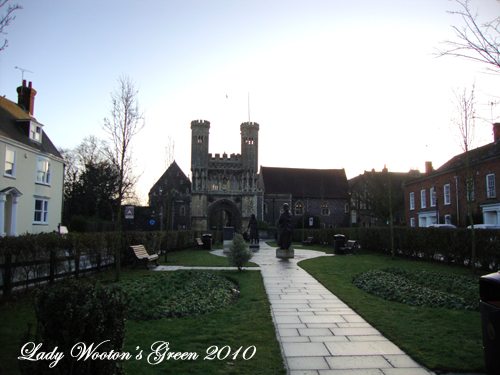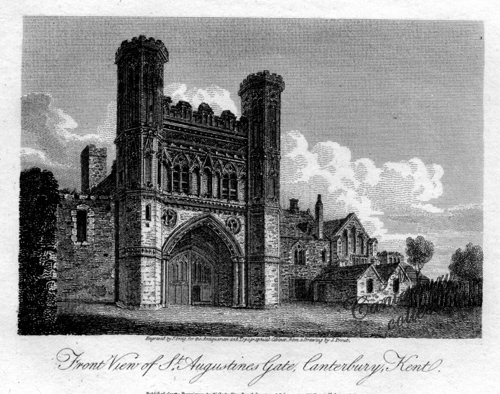 St. Augustine's Abbey Gate 1811
...It then came by gant into the family of the Wootton's, who resided in it, whence it was called Lady Wootton's Palace, and the green before it, Lady Wootton's Green; from which family the property of it came in possession of the late Sir Edward Hales, bart.: but the greater part of it has, of late years, been disposed of to the persons who now occupy it. Besides the two gates of the monastery before mentioned, there is no more of it left than is sufficient for a common alehouse, into which it has been for some years converted. Canterbury Guide, Henry Ward (8 Mercery Lane)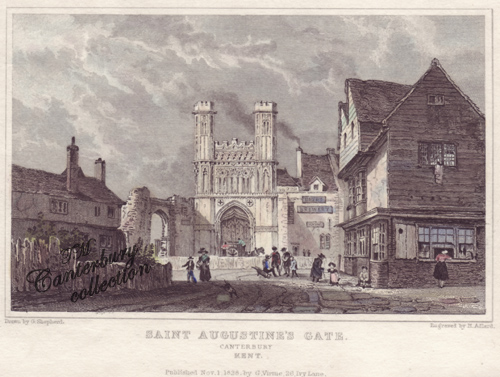 __
An old view of Lady Wootton's Green, and the same houses shown in the detail of the old postcard on the right
"At the time I am writing of, St. Augustine's monastery at Canterbury was desecrated to the purposes of a brewery such are the base uses to which some of the noblest buildings which man can erect are subject to, and the gardens adjoining, once the resting-place of the nuns and monks of the holy order instituted by their illustrious founder, were used as a bowling-green and tea-drinking place for the plebeians of Canterbury. A part of the original building was used as a fives-court, or racket-ground, and I have seen in my early days some good matches played there between the citizens of Canterbury and some crack players from London.
I am happy to be able to record, for the information of such of my readers as may not be aware of the fact, that this grand old monastery of ancient story, and its beautiful ruins have been rescued from these base purposes by the munificent liberality of Mr. Beresford Hope, a gentleman well known and very highly respected by all lovers of art. That which was used as a brewery has long since given place to a missionary college, under the able presidency of the Rev. Henry Bailey, B.D., the successor of the lamented Bishop Coleridge the first warden of the College; and the chamber over the fine old gateway that was once devoted to cock-fighting-this is a veritable fact - is, I believe, restored as much as possible to its original appearance, and is now used as a council-chamber by the heads of the college.
The tea-gardens connected with the public-house adjoining the brewery, and part of the sacred building of St. Augustine, on Lady Wootton's Green, presented, at the time I am referring to, a kind of Cremorne on a small scale. Fireworks, balloons, and the Blondin of those days, attracted crowds of Canterbury lads and lasses, and the old people as well - for it is most observable that at all our places of amusement devoted almost exclusively to young persons, there will be found not a few venerable-looking men and women, who appear to be quite as much delighted with what is going on as the young people.
St. Augustines Gateway c. 1843
St. Augustine's brewery! (for so it was designated; what would the grand old saint have said to such degredation?) - was at the time rented by the father of a schoolfellow of mine of the name of Beer, a somewhat singular coincidence, and will afford a hint to Mr. Lower, in a new edition of his interesting work on "Surnames."
I can say with very much pleasure that having enjoyed the entree to this establishment at all times, I can record the many happy hours sepnt in the fine old building, often climbing its lofty towers, which are even now in a fine state of preservation, to look out upon the splendid view to be obtained from the summit; and many a draught have I had of the good home-brewed, wholesome beverage manufactured under its roof.
The brewery has been removed, and the building reclaimed from its odour of malt and hops to some of its primal sanctities. The brewer, who heartily welcomed me within its sacred walls, is dead; his son my schoolfellow, carries on the business at a short distance from the original spot: he hardly recognized me a few years since, when I called to renew the acquaintance of our early days, and to remind me of some of my juvenile reminiscences."
Passages from the auto-biography of a "man of Kent" Robert Cowtan 1866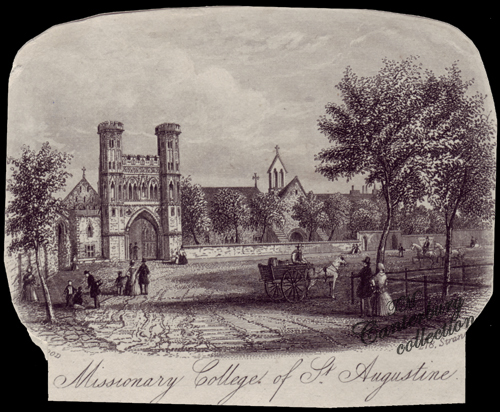 "From the East Station there extends as far as the site of the old Riding Gate a well-preserved length of the wall with semicircular towers at intervals, and from opposite Lady Wootton's Green to St. Mary's Church, standing close to the site of North Gate, lengths of the wall, with a tower at intervals, form thrillingly medieval foregrounds for the Cathedral towers.....Opposite Lady Wooton's Green there still remain indications of a narrow postern, which is generally accepted as that through which Queen Bertha was wont to pass on her way to her devotions at St. Martin's Church. This, however, presupposes that the portion of the wall immediately surrounding this particular point is Roman or very Early Saxon, and also that the walls of the city occupied the same position, at least as far as this point, as those built at the end of the twelfth century." Beautiful Britain, Gordon Home
1847 Mr. James Bubb, Lady Wootton's Green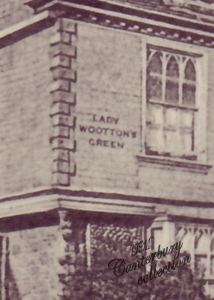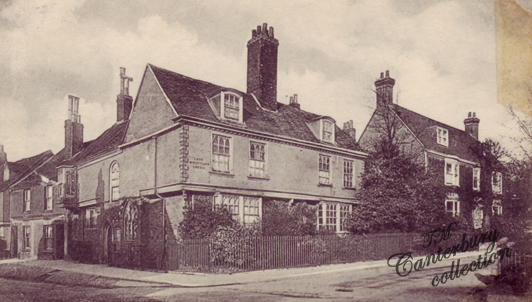 All the properties in Lady Wootton's Green were destroyed in the air raid of 1942 with the exception of one home (the one on the right)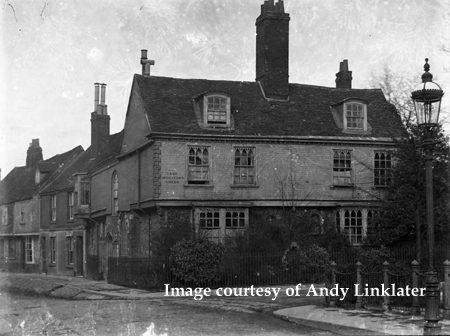 The Priory, Lady Wootton's Green - courtesy of Andy Linklater
Court House, Canterbury, Kent, July 4 at 10.
Henry Pellett, Canterbury, dealer in horses. William Prett, Canterbury, retailer of beer. Stephen W. Marrell, Lady Wootton's Green, Canterbury, Butcher. The Jurist 1844
A view of Lady Wootton's Green and Fyndon's Gate on the right
1839 William FOREMAN, Turner, Lady Wootton's Green
1917 THE PRIORY - Miss Grayling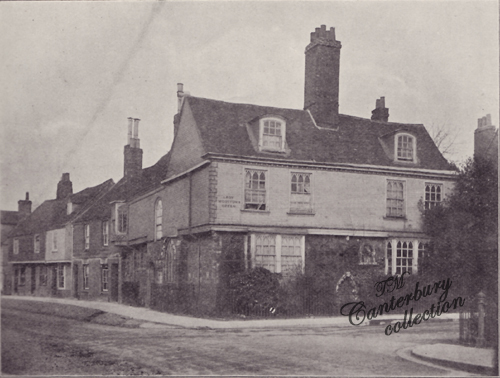 The Priory, Lady Wootton's Green (also showing Broad Street) *Dicken's Dr. Strong's House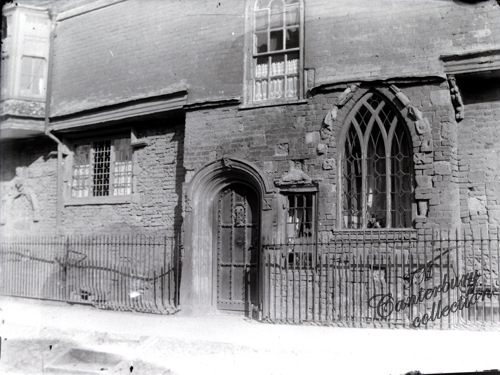 No. 1
1880's - 90's John R. CASTLEDEN, worked as a corn factor
*It had a frontage of 250 feet, extending from the Cemetery gate, which was built by Thomas Ickham, the Sacristan, in the latter part of the 14th century, to the house lately occupied by Mr. and Mrs. CASTLEDEN (a household name in the homes of many an Augustinian in the distant colonies).
1917 Alderman W. WILTSHIRE
---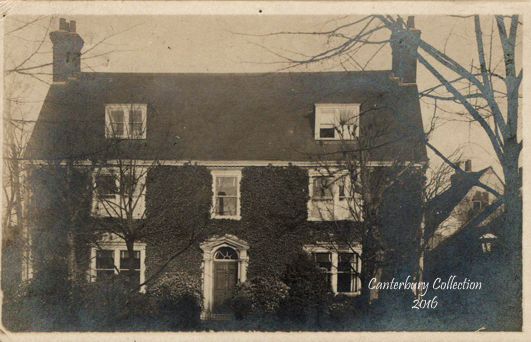 The Almonry, Lady Wootton's Green *the only house to survive the bombing, all of the other homes in Lady Wootton's Green are new
THE ALMONRY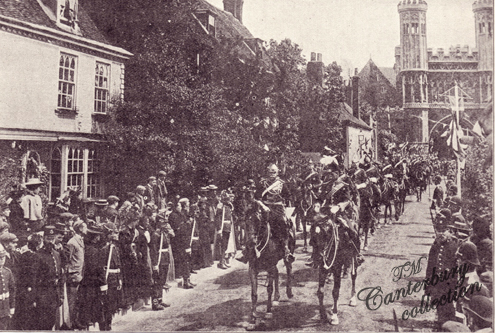 Photo by Sinclair & Son - Royal Procession. The visit of the Prince and Princess of Wales 1897 (Lady Wootton's Green)
John Richard Castleden* who was a Corn & Hop Factor lived here in Lady Wootton's Green from about the 1870's to 1900. He retired about 1880 and was then living on his own means. John R. Castleden had married Eliza Collett Homershame in 1840 in Canterbury, and he and his wife were living in St. Dunstan's Street in the 1840's, and by the 1850's he and his family had moved to Green Court. Both John and his wife Eliza died in the early part of 1900.
*John Castleden of Holy Cross Canterbury, corn factor, widow and Sarah Snelling of the same, spinster (28)
By 1913 the property was occupied by Alderman William Wiltshier
No. 2
1889 - 90's John WRIGHT, Gardener
Stephen BEST, Tailor (
1917 William BALDWIN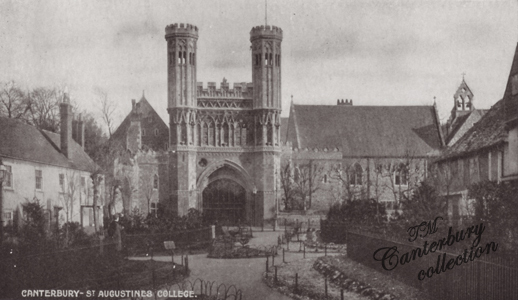 A view of Lady Wootton's Green and St. Augustine's Gate (Fyndon's Gate)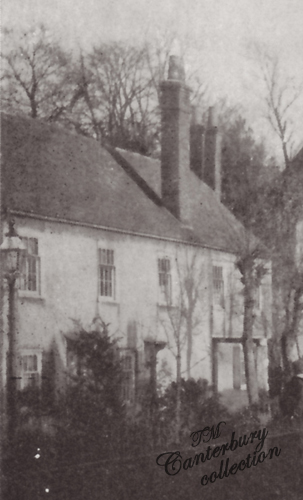 __
No. 3
Charles LOTT, Fly Driver * (
Jane LOTT (
ST. AUGUSTINES HOUSE
William Plummer Esq., Major late 1st Middlesex Militia, Solicitor & clerk to Canterbury Justices *
1889 Major William PLUMMER, St. Augustine's
William PLUMMER, Solicitor (
1917 Mrs. M. HOGBEN
Monastery Street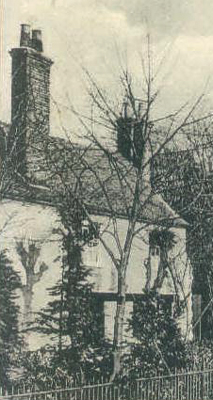 A view of Lady Wootton's Green, showing Broad Street, and the Cathedral from St. Augustine's Gate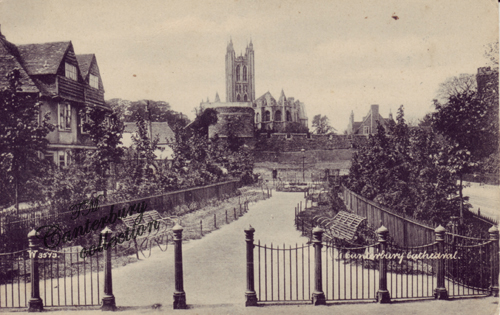 No. 4
4a William SKINNER, Coal Merchant and General Carrier *
1889 4 Mrs. WRATTEN, Laundress
1889 4a William Skinner, Carrier and Furniture Remover
Fanny WRIGHT, Washerwoman (
1917 Mrs. F. Wright
4a 1917 Peter John Green and Co., Carmen - John Coultham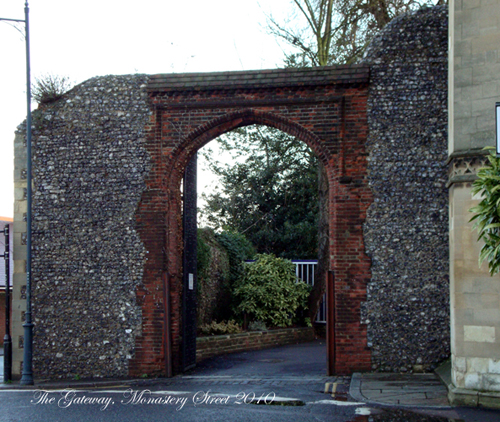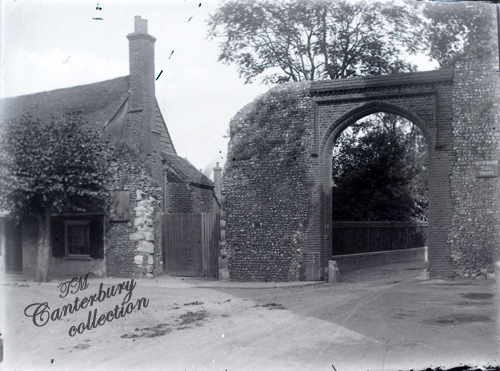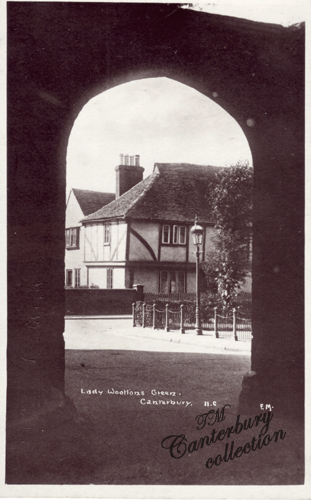 No. 5
Henry J. LARGE, Painter & Glazier *
1889 Henry LARGE, Painter
Henry Large, Where do you live? 5 Lady Wootton's Green. What is your occupation? A Painter.PP1881
1917 Frederick LONGLEY
No. 6
Edwin CARLEY, Brewer's Servant *
1889 Edwin CARLEY, Cellerman
1917 Edwin CARLEY
A lovely detailed view of the houses of Lady Wootton's Green on the left hand side looking towards the Cathedral and away from the Gate, the houses were destroyed in the air raids of 1942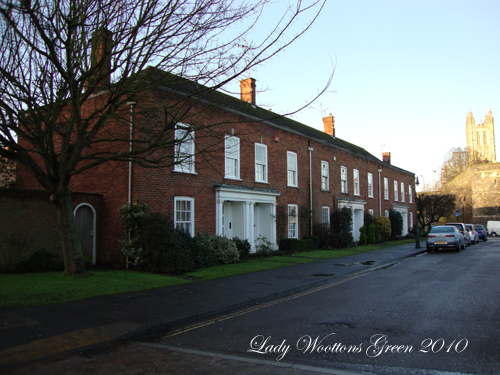 The buildings now in Lady Wootton's Green, built after WW2 when the original buildings on this side were destroyed
No. 7
William ROBUS, Cordwainer *
1885 Kelly's Directory of the Leather Trades - William ROBUS, listed under Boot & Shoe Makers, Warehouses & Dirs.
1889 Mrs. E. HUGHES
1917 Alfred WOODS
No. 8
1889 Arthur J. SMITH, Labourer
1917 Frederick COURT
No. 9
SICILIAN VILLA
early 70's - 80's William FOSTER, Agricultural Labourer, daughter Ellen Northcroft, Police Constables wife *1889 at St. Martins Hill
1889 Edward SKIPTEN, Labourer
1917 SICILIAN VILLA, Benjamin Thomas COLLARD (Ellen Jane Palmer m. 1897 Canterbury) - death of an Ellen Jane Collard, 1898 in Canterbury. 1901 widower at 27 Maltster & Drayman
A an old view of Lady Wootton's Green and St. Augustines (Fyndon's) Gateway
A recent view of Lady Wootton's Green and Fyndon's Gateway
St. Augustine's College and Lady Wootton's Green were damaged extensively in the bombings of 1942
_____
The lovely statues of Queen Bertha and King Ethelbert that now grace Lady Wootton's Green
Bertha on her way back from St. Martin's and Ethelbert on his way to St. Pancras?

1805-7
Cyprian BUNCE, attorney
James FLETCHER, cork cutter
Subscribers - Mrs. Anthony Clarke - Lady Wootton's Green, Canterbury (Memoirs of Granville Sharp, Esq., by Prince Hoare) date?
Court house Canterbury, Kent, July 4 at 10 - Stephen W. Marrell, Lady Wootton's Green, Canterbury, Butcher (1844)
1850's
Lady Woottons Green
2 Lady Woottons Green - Henry Royel - Sawyer
3 Lady Woottons Green - Sarah E. Mannewll, Laundress
4 Lady Wootons Green - Thomas Scott, Labourer, Mary Wilson, Rag Cuttter
5 Lady Woottons Green - Richard Bowen, Stone Mason
6 Lady Woottons Green - James Bubb, annuitant
Lady Woottons Green - Richard Lawrence - Milkman
Elizabeth Stains - Laundress
Caroline Thompason - Tailoress
Richard Holtum - Sheriffs Officer, John Watson Holtum, Assistant Officer
Peter PEMELL, Proprietor of Houses
1852 Poll Book - Peter PEMELL - registered to vote in St. Paul, Deptford - Lady Wottons Green, Canterbury
Almonry 1 - John Boorman, Carpenter
Almonry 2 - Matthew Fox, Cordwainer
Amonry 3 - Margaret Middleton, Laundress
Unoccupied
Amonry 4 - Ann Lines, Parish relief
Almonry 5 - John Wotford, Labourer
Almonry 6 - Mary Broadbridge, Formerly Servant
Monastery Street (three stags) - Benjamin Barnes, Victualler
---